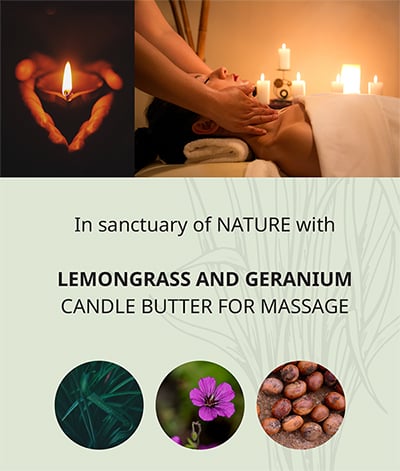 In sanctuary of NATURE with

LEMONGRASS AND GERANIUM
CANDLE BUTTER FOR MASSAGE
To purify mind and body, the revitalizing freshness of lemongrass essential oil from Bhutan reveals the essence of nature with enhancement of refreshing orange and tender geranium while rosewood essential oil with floral quality scent helps to fortify the immune system.
• Moisturizing & Nourishing
• Purifying & Anti-stress
• Reset & Revitalizing.
สัมผัสกลิ่นอายแห่งธรรมชาติ
คืนความสะอาดหมดจดให้ผิวกาย และจิตใจราวได้กลับไปอยู่ท่ามกลางความบริสุทธิ์ของธรรมชาติด้วยคุณสมบัติของน้ำมันหอมระเหยสกัดจากตะไคร้ภูฏาน ที่มอบกลิ่นหอมสดชื่น ฟื้นฟูความกระปรี้กระเปร่า ทวีประสิทธิภาพด้านสุวคนธบำบัดด้วยความฉ่ำชื่นของส้ม และความอ่อนโยนจากเจอราเนียม โดยมีน้ำมันหอมระเหยสกัดจากไม้พะยูงช่วยเสริมประสิทธิภาพการทำงานของภูมิคุ้มกันทางสภาพผิว

• มอบความชุ่มชื่น ฟื้นบำรุงสภาพผิว
• คืนความสะอาด & ขจัดความเครียด
• ฟื้นฟูความสดใส มีชีวิตชีวา
CANNABIS SATIVA SEED OIL



Being from the Cannabis Sativa species, hence to understand the distinctive and crucial differences between hemp and marijuana (or weed) which both contain the concentrate of active compound called cannabinoids is quite confusing. Nevertheless, the basic idea to identify differentiate is the amount of tetrahydrocannabinol (THC), a kind of cannabinoid which is the psychoactive constituent responsible for the high. Generally, hemp contains very little THC, very less than weed so it has definitely no psychoactive effects.
Long been recognized for its use as a beauty ingredient, Cannabis Sativa Seed Oil is an herbaceous oil cold pressed from hemp seeds containing less than 0.3% THC making it non-psychoactive which recently gains popularity in skincare formulations. Composing of up to 90% omega fatty acids, this naturally green oil provides powerful hydrating properties and abundant antioxidants helping to strengthen skin's barrier and tackles the signs of stressed skin, soothing and reducing the appearance of micro-inflammation symptoms.